Today I visited the Met School in Providence, Rhode Island which focuses on nontraditional education through community, student passions, flexible courses and real-world life skills. The following is what I learned from speaking with the students themselves (later verified by school administrators).
Students drive their own community projects at carefully managed internship sites, two days per week—with the other three days being used for classes. The Met is a state public school, serving students from all over Rhode Island at the main campus in Providence, as well as a number of other locations throughout the state. Buildings with names such as Justice or Unity hold 100-160 students each, with the aim of creating a community of attentive educators and peers—a kind of extended educational family. Within these buildings, students are divided into small 16-student "advisories" where the advisor plays an extremely hands-on role in helping students identify their passions, setup offsite opportunities, manage internship participation, and prepare for college. The advisor is also responsible for accountability, checking in on (and creating meaningful interventions for) students who are late, absent, or falling behind.
When I asked "What happens when students fail or are failing?" I was surprised to hear from students that peers don't really fail here, they just "mess up now and then, but advisors help everyone get back on track." It's incredible to see a school of predominantly low socioeconomic status students celebrate failure, ensure passion-based learning through self-designed curricula, and prioritize advising and mentoring. A number of students mentioned that, in middle school, they assumed they'd end up dropping out of highschool; at the Met, they say, it's commonplace to aim to not only graduate highschool, but to do so with advanced coursework firmly in hand, and even an Associates Degree from one of the local community colleges.
Key Facts
Demographics: 40 percent Hispanic, 25 percent Black, 20 percent White, 15 percent Other

Cost of $13,000 per student, which is less than half of Cambridge's cost per student

93% college enrollment rate

Students are expected to complete project based work at their internships, with progress tracked by advisors, and formal presentation required

Trimester system

The entrepreneurship center parallels programs in Cambridge like "The Possible Project"; interestingly, students who demonstrate commitment to their ventures are given an office and one-on-one time with paid venture-mentors
I asked students what made The Met School different from public school and they reflected that public school: teaches to the test, restrains teachers from prioritizing student passions, and limits student agency in their own growth. Students were quick to point out that, at the Met, students take classes they select from anywhere in the region (or online)—that they are truly passionate about—each trimester, allowing them to build an educational plan that truly engages them. Students take courses on site, at local community colleges, online, and even at Brown - allowing them a much wider variety of opportunities, at a much more reasonable cost to the school than in-house curricular design. It's easy to see how this model not only leads to academic success, but career readiness and post-secondary academic excellence.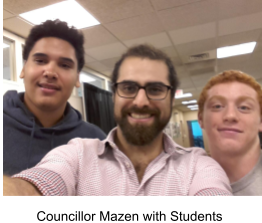 Now, as I wind down my day, I'm excited by the students gathering to do work outside on the lawn, flocking to the entrepreneurship center to plan pitches, and staying late for additional night classes – all self-led and school-community supported. The culture here drives outcomes. My fear is that in traditional public schools, we're so busy chasing results that many of the basic principles and organizing strategies might be too far out of reach. What do you think – is a city like Cambridge ready for the flexibility entailed by advisories, project-based internships, and self-guided learning?
Do you like this post?